Halloween is one of the most awaited holidays around the world. Also known as All Saint's Eve, it's famous for "trick-or-treat" custom where kids travel from house to house, asking for treats. It's a party of costumes, pumpkin carving, lighting bonfires and watching horror movies.
Ideas from Shutterstock suggestions
Obviously, it has a HUGE customer interest so it must be a great topic for content creation. Lets take a look what Shutterstock suggests us as popular customer searches.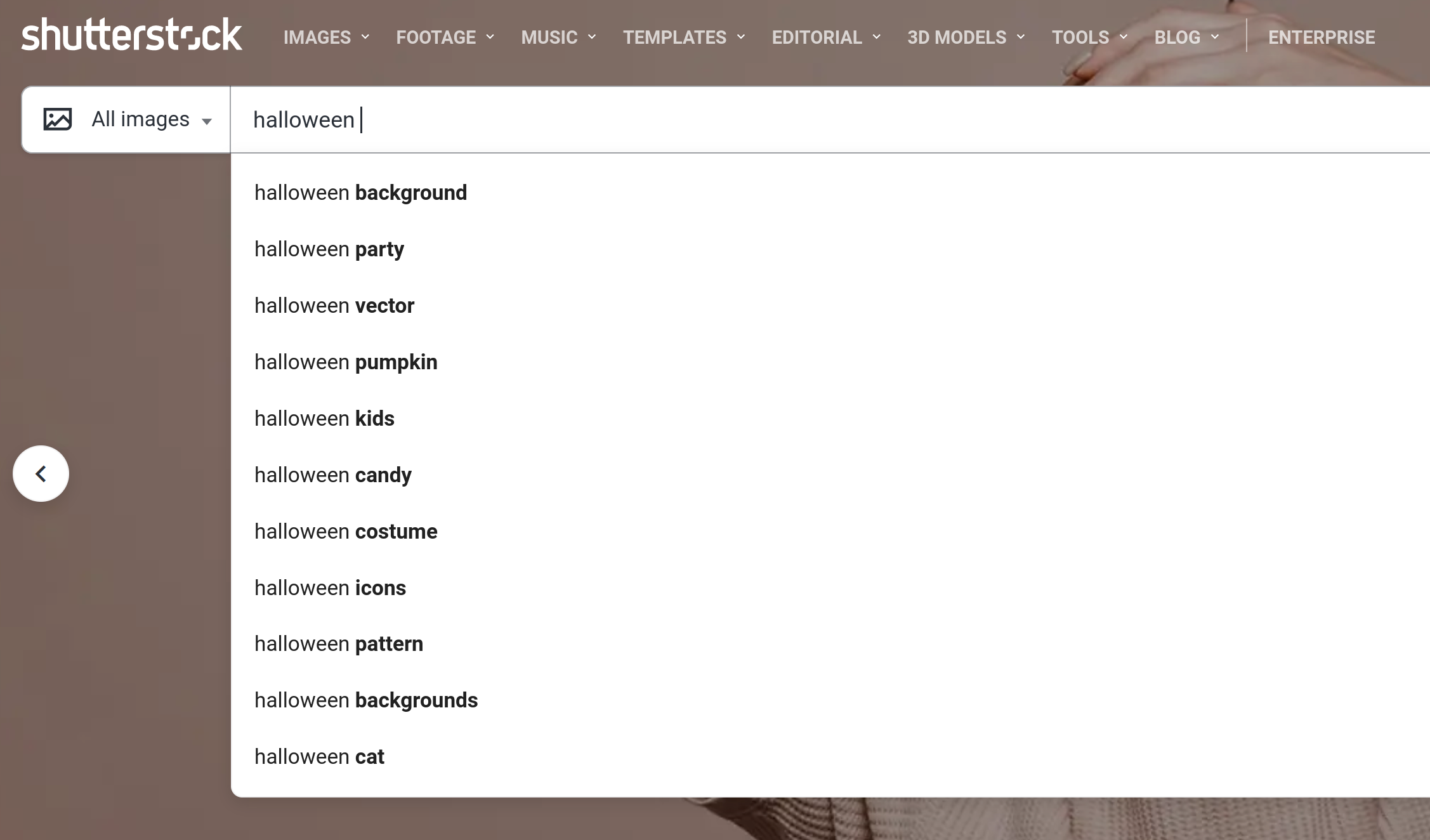 The most popular customer queries in Shutterstock
Knowing that these are what customers need is great, but it would be even better to know how many of them need it. Lets grab some Stock Photo Ideas data (see how to use this data explanation to better understand the table):
You can immediately notice that there are three queries, related to Halloween, that have more or less significant traffic: "backgrounds", "pumpkin" and "cat". First two have around one million (!) existing results. "Cat" query has "only" 112 thousands, so if you would like to choose "the best" content idea from Shutterstock suggestions, it's better to go after a "cat".
The lowest competition can be found for "halloween candy" and "halloween cat", both counting around 100,000 existing results. In order to compete with this number of pictures, you have to poses truly outstanding skills and promote your content very well.
More bad ideas


Halloween Hand - an unexpectedly bad content idea
Of course, Halloween theme is not limited by the Shutterstock suggestions and in reality there are many more content opportunities. And many of them are not great:
These content ideas are even worse since they have virtually no Shutterstock Traffic and still huge competition, drawn from adjacent topics. The worst ones - "halloween hand" and "pumpkin cartoon", being overwhelmed with existing artworks and seeing no traffic. Make sure not to spend your time on them.
What you should have done instead
You could have spent your time creating content that most probably will have no chance against competition or, without competition, will have hardly any customer interest. But if you subscribed to Stock Photo Ideas, you would get only the most useful data about niches beforehand.
Sign up to Stock Photo Ideas and never run out of ideas again