Although every public holiday in US is nowadays a good reason for sales in every business, the Black Friday is the king of them all. A Friday that follows Thanksgiving is the busiest and most marketed sale event of the year. European businesses have also picked this tradition to make sales on that day so amount of customers who will need fresh content is huge. It is closely followed by Cybermonday. Cybermonday is a Monday following Thanksgiving that in 2020 has taken over Black Friday on total dollars spent shopping online.
Ideas from Shutterstock suggestions
Black Friday is the rush hour on microstocks too, but few months in advance, when brands are building their own promo materials. Lets see what Shutterstock suggests us as popular customer searches.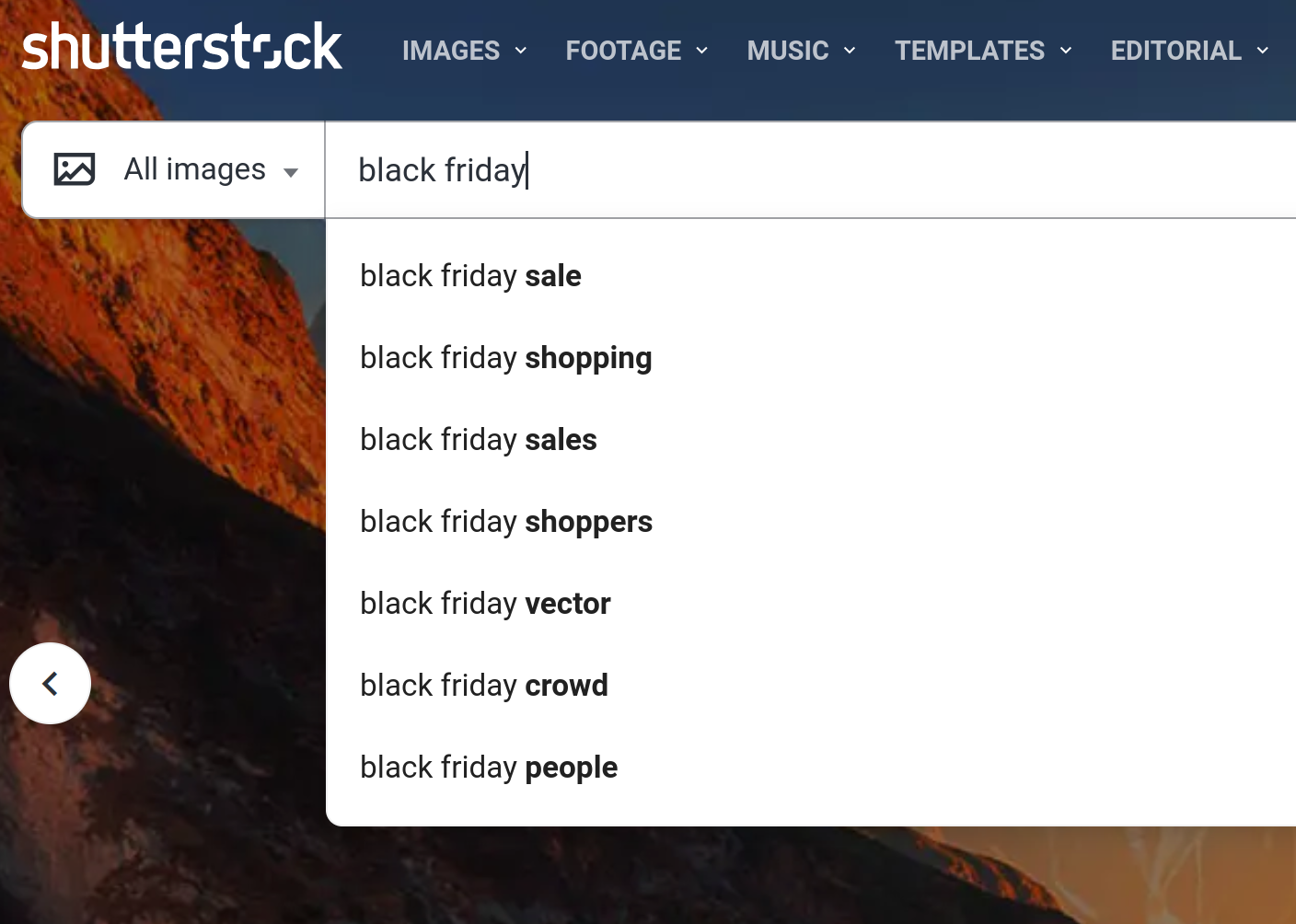 The most popular customer Black Friday queries in Shutterstock
Knowing that these are what customers need is great, but it would be even better to know how many of them need it. Lets pull some Stock Photo Ideas data (see how to use this data explanation to better understand the table):
If you were to look at a sibling topic "Cybermonday", Shutterstock only suggest us top-level query:


Not many Cybermonday queries in Shutterstock
The data suggests that some Cybermonday queries do not get relevant Shutterstock traffic at all, while having more than 50,000 existing results. The reason is probably due to people actually searching deals instead of stock content.
More bad ideas


There's no need for price tag content
Black Friday has lots of subtopics and majority of them are overflowed with some content. If you will be working on some content, make sure to not work on these topics, as it will be waste of time:
These content ideas are even worse since they have virtually no Shutterstock Traffic and still huge competition, drawn from adjacent topics. The worst ones - "backgrounds" and "sale sign", being overwhelmed with existing artworks and seeing no significant traffic. Make sure not to spend your time on them.
What you should have done instead
You could have spent your time creating content that most probably will have no chance against competition or, without competition, will have hardly any customer interest. But if you subscribed to Stock Photo Ideas, you would get only the most useful data about niches beforehand.